Liquid Screed S & M Builders (MK) Limited

LIQUID SCREED
S & M Builders knew exactly that they wanted a liquid screed before they contacted Speed Screed, having taken the time to study the available screeds on the market.
The project was a residential property requiring screed to the ground floor, which extended to 170m2 at an average depth of 57mm.   Liquid screed to be laid directly onto a previously prepared membrane and celotex insulation.  When dry the laminate flooring could be laid directly onto the screed.

Established 35 years ago S & M are one of the most respected builders in the area.
"When you need to fix or add to your home, you can usually find a builder nearby – but not always the one you can trust. S & M Builders is owned by Ron Down who has been building and fixing homes since 1981. When you call S & M Builders you are calling on over 35 years of experience, so you can trust that any job will be done right – first time.".
Offering a wide range of services which include,  house extensions, loft conversions, garage conversions, home renovation, structural alterations, and general building services.
 
Residential Project – Shenley Lodge, Milton Keynes, MK5 7LA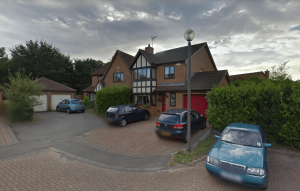 Liquid Screed
Screeding on this development would need to be quick and clean.   Completing the work in just one day, when a traditional sand and cement would normally take two days for a standard team.
It has a number of advantages over other products on the market, and include:
Increased productivity with areas up to 2,000m2 per day possible.
Minimal cracking
Joints at 30-40 linear meters
Low shrinkage
Will not curl
No reinforcement required
Eco-friendly calcium sulphate binder
Foot traffic within 24 to 48 hours

Aggregate Industries plant in Milton Keynes supplying liquid screed was the obvious solution.   The plant is situated only 3 miles from the site, and this would ensure good service with no cold joints in between loads.
Highflow S is the brand name for Aggregate Industries liquid screed, and Speed Screed are proud that they currently use one of our previous projects to promote the liquid screed.
Delivery was made via a truck mixer, with two loads.    Discharge was very quick taking only 30 minutes per load to discharge and pump into the building.  This method did not take up materials storage space, having minimal impact on other residents.
Highflow S liquid screed is a calcium sulphate binder.
The screed was pumped using the latest Putzmesiter SP20 worm feed screed pump.
Foot traffic after only 24-48 hours, meant work could continue quickly.
LIQUID SCREED VIDEOS