Taylor Lindsey – Lincoln Site
This flats project is located on Taylor Lindsey's premium Lincoln site. The requirement was for Lincoln screed, insulation, membrane and acoustic insulation. The acoustic insulation was essential to pass Part E of the building regulations relating to sound.
Lincoln Screed
For this project, we used 1:4 Fibre Screed, with IsoRubber acoustic insulation from Thermal Economics. The systems meets with Robust Details E-FC-4 which is a 65mm cement-sand ratio screed. At 65mm a 1:4 Fibre Screed meets with the density requirements of Robust Detail.
When working to Robust Details, there is no need to have pre-completion sound testing carried out on the units as long as all the steps in the system have been carried out to the standards required. Part E only applies to multi occupancy buildings, however many other projects benefit from this type of noise control.
The installation of the IsoRubber is critical to performance, and has to meet the high standards of Robust Detail.  Firstly the Isoedge was installed to all vertical points, and then rubber based is laid.  There should be no transmission pathways for sound.  Once installed the Lincoln screed project could continue.
The 1:4 Fibre screed was site batched, with the screed being mixed using a Putzmeister M760 with skip and scarper. The skip and scraper working together to reduce labour effort when mixing the screed.
Screed Mixing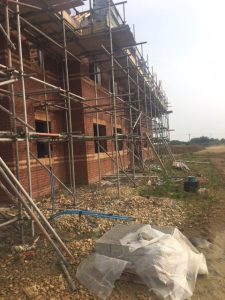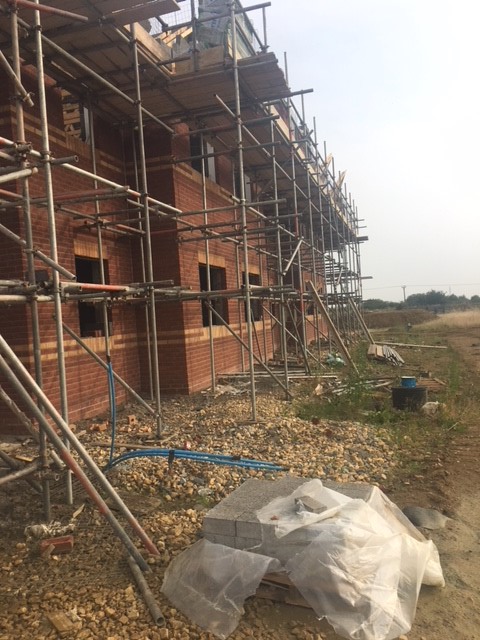 When mixing half of the sand is placed in the vessel, then cement, water and construction fibres Adfil Fibrin 660F. The fibres are present to significantly reduce the occurrence of plastic shrinkage and plastic settlement cracking in screed. The second half of the sand is then added into the vessel before mixing begins.
For convenience the screed is pumped to the exact location where it is required, and then the installers lay the screed to provided datums.