Getting & Keeping Customers Convention 2021 – Peter Jones – David Walliams – Plus Guests
*****Discounted Tickets*****
As a fellow entrepreneur you are invited to join me and 1,200+ fellow entrepreneurs at what has become the biggest and best business event of the year.
Are you free on the 1st and 2nd October?
The event looks like it's going to be excellent with Peter Jones, David Walliams and content from the Entrepreneurs Circle as well (they know their stuff).
I'm going to be there and I was hoping you'd join us.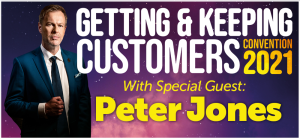 It's the closest thing in business to a 'silver bullet', the 'Holy Grail' – and it's why every year, Entrepreneurs Circle dedicates two days (and almost £1m of their own money!) to put on a 2-day business event like no other.
Celebrity guests, practical content sessions, world-class networking, delicious food(!) – it's got EVERYTHING… All that's missing is you!
Tickets are normally £499 but you can use the discount code: "ANDYP" to save £200 (my treat!).