What Quality Screed Systems Do You Have in Place?
How can the customer be sure that they will receive quality screed and workmanship?
What quality systems do are in place to deliver quality screed?
Having the internationally recognised ISO system like ISO9001.  This is a quality system that tracks all the processes from the very first inquiry right through to the end of the process. Also central to our operations is ISO14001, which looks at the environmental impact. Both of these two quality systems are independently audited and accredited annually.  Helping Speed Screed to deliver quality screed.
Following the British Standard which is BS8204:2003.  Clients are assured that the work is equal or better than the standard.  Health and safety is so important and that is why Speed Screed are accredited to SMAS and CHAS which looks at our health and safety.
SMAS is the Safety Management Advisory Services and CHAS being Contractors Health and Safety Scheme. Both of these schemes are accredited annually and we are externally audited.
In 2018 Speed Screed were proud to take part in the Construction and Engineering Parliamentary Review as a "Best Practice Representative"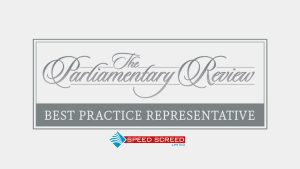 Hosted by Rt Hon The Lord David Blunkett MP and Rt Hon The Lord Eric Pickles.  The review brings together companies who live and breath best practice.  We Speed Screed want to raise the standards of the industry by leading from the front, by delivering quality screed.
"The ability to listen and learn from one another has always been vital in parliament, in business and in most aspects of daily life. But at this particular moment in time, as national and global events continue to reiterate, it is uncommonly crucial that we forge new channels of communication and reinforce existing ones. The following article from Speed Screed is an attempt to do just that. We would welcome your thoughts on this or any other Parliamentary Review article."
Read the review here: Speed Screed's Parliamentary Review
With these systems in place, you can see that quality is of the highest priority to Speed Screed.